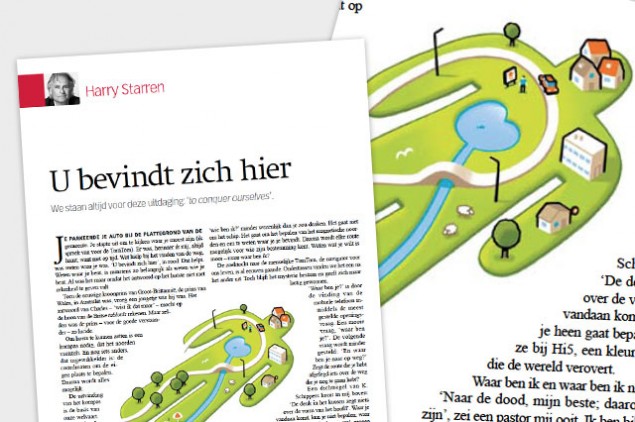 We are always ready for this challenge: "to conquer ourselves".
You parked your car near the map of the municipality. You got out to see where you had to go (I am talking about the days before the TomTom). I remember that there was always a rush because you were never on time. What helped, in finding the way, was knowing where you were. "You are here," in red. That helps. Knowing where you are is at least as important as knowing who you are. Even if it was because the answer to the latter could not be given with certainty.
When the eternal crown prince of Great Britain, the Prince of Wales, was in in Australia, a little boy asked who he was. The answer from Charles – "if I only knew" – could count on derision by the British tabloids. But rarely was the prince – for the good listener – so lucid.
To be able to set a course, a compass is needed, which establishes north. And something else, which is more complicated: the coordinates to determine your own position. After that, everything is possible.
The discovery of the compass is the foundation of our prosperity. We could conquer the world. When we could connect place with time, we found our course. We could no longer lose our way, because we could determine our position. Mankind has succeeded in a heroic search to place a grid over the world of degrees of longitude and latitude. We have caught the world in a net. It's a job that succeeds, if you translate space into time. Into hours, minutes and seconds. In retrospect, like so much else, a sunny thought that is so obvious. You just have to come up with it.
Such a job lies before us if we want to save the other universe. The deep blue sea: we are talking about ourselves. Then the question
"who am I?" is less real than you would think. It is not about the ship. It is about determining the magnetic north and knowing where you are. After that, every route becomes possible for those who know their destination. Knowing what you want is nice – but where am I?
The search for the human TomTom, the navigator for our life, has been going on for centuries. In the meantime, we are discovering this and that. Nevertheless the mystery continues to exist and reveals itself only with difficulty, and very slowly.
"Where are you?" has now become the most common opening question because of the invention of the mobile phone.
A beautiful question, "where are you?" The following question is asked less often: "And where are you headed?" Does the route that you have taken say something about the road that is still ahead of you? A verse from K. Schippers comes to mind: "The dent in the pillow says nothing about the form of the head." You cannot determine where you are coming from; you can determine where you are going, they say at НІ5, a colorful emancipation movement that is conquering the world. Where am I and where am I headed?
"Toward death, my dear; there can be no misunderstanding about it," a pastor once told me. I was educated by priests. It is not the destination that you should be concerned about; it is the road. That requires all your attention.
You were not there and you will not be there. In the meantime you are here. So the question is: where are you?
HARRY STARREN is Director of De Baak. He is a speaker, honorary chairman and commentator on themes such as strategy, leadership and entrepreneurship.