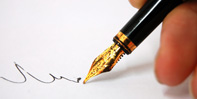 Someone asked me: How do you find the time to write so much? The secret is that I rise very early in the morning. I always wake up with an idea, or I see a new solution that I haven't seen before, or, an intriguing concept comes to mind, one that I want to explore. I do this by writing.
Writing is a form of craftsmanship that asks concentration and precision. I start with the idea and stop when it is fully examined and I feel saturated. That can mean anything from a few A4 pages to an entire book.
I am curious and I want to stimulate others to be so, too. Through my writings I want to seduce the reader to be free, have an opinion, take a step in an unknown direction. Or simply to have a good time.
My writings are published in books, articles, columns, newsletters, magazines and major daily newspapers.