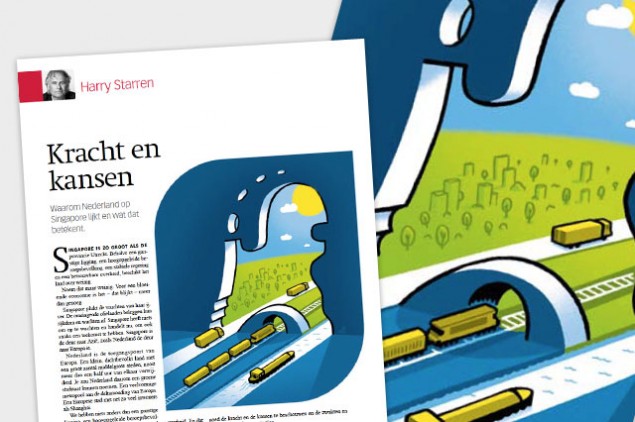 Why The Netherlands looks like Singapore and what that means.
Singapore is the size of the province of Utrecht. Aside from a favorable location, a highly educated work force, a stable government and reliable authorities, the country has little. Call that little. For a thriving economy, it appears to be more than enough.
Singapore reaps the rewards of its diligence. The surrounding oil countries invest their wealth and wait. Singapore has nothing to wait for and takes action now, to have a future later as well. Singapore is the door to Asia, just as the Netherlands is the door to Europe.
The Netherlands is the gateway to Europe. A small, densely populated country with a large number of medium-sized cities, never more than half an hour from each other. Therefore, you could call the Netherlands a green city state. A multiform metropolis on the delta estuary of Europe. A European city with as many inhabitants as Shanghai.
We have nothing more than a favorable location, a highly educated work force, a stable government and reliable authorities. And as we know, that is quite something. At sea, it is referred to as having the wind at your back. Then you have everything going for you.
A trading country with a structural surplus on the balance of payments that is comparable to superpower China. A small economic superpower, which solves its problems easiest by looking at them differently. And which draws its strength from openness, tolerance and diversity. If it is able to understand its legacy.
In its strengths lie the opportunities, in the weaknesses the challenges. Opportunities should be seized and challenges must be taken on. It is
good to consider the strengths and the opportunities and to face up to the weaknesses and challenges.
The only thing you still need is politicians and administrators who know the opportunities and the challenges. By heart. And who can express them with their heart, since that means that they believe in them.
That is all it is.
HARRY STARREN is Director of De Baak. He is a speaker, honorary chairman and commentator on themes such as strategy, leadership and entrepreneurship.