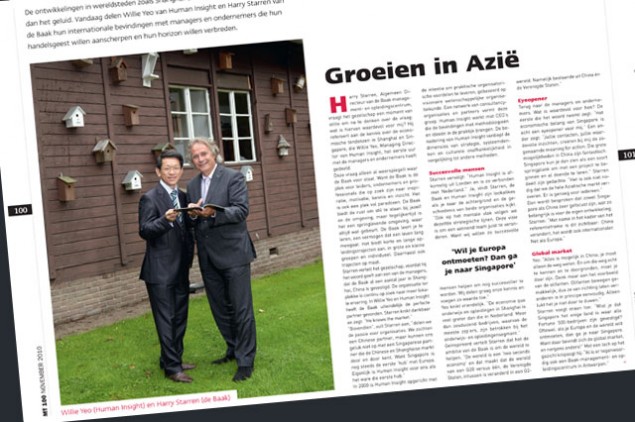 Developments in world-class cities like Shanghai and Singapore seem to move faster than the speed of sound. Willie Yeo from Human Insight and Harry Starren from De Baak share their international observations with managers and entrepreneurs who want to refine their commercial mindset and expand their horizons.
 Growth in Asia
Harry Starren, managing director of De Baak management center and training institute, asks those present to take a moment of silence to contemplate: what part of this has value for me? He is referring to the information on economic trends in Shanghai and Singapore that Willie Yeo, managing director of Human Insight, just shared with the managers and entrepreneurs during the first hour.
Even that question as such expresses what De Baak represents. De Baak is the definitive source for leaders, entrepreneurs and professionals seeking inspiration, motivation, knowledge and insight. It is also a place filled with paradoxes. De Baak offers the peace and quiet to stand still and reflect on yourself and your surroundings, but at the same time it is a lively, vibrant setting where something is happening around every corner. De Baak teaches you how to learn, a skill that will last you a lifetime. It offers short seminars and long programs, catering to groups of all sizes as well as individuals – and courses tailored to individual needs are also provided.
Before handing the floor to one of the managers, Starren tells the people present that De Baak has had an office in Shanghai, China for a number of years. The Chinese office is constantly looking for more local experience. De Baak has finally found its perfect partner in Willie Yeo and Human Insight. Starren nods gratefully in his direction and says, 'He knows the market.'
'What's more,' Starren continues, 'we share a passion for organizations. We were looking for a Chinese partner, but we couldn't contain our delight at finding a Singaporean partner who is intimately familiar with the Chinese and Shanghai market. Singapore is still the first hub connecting Asia to Europe. In essence, Human Insight is like that first hub for us.'
Established in 2000, Human Insight aimed to provide practical organizational advantages based on visionary organizational science. A network of consultancy firms and partners formed the group. Human Insight works with CEOs who take their findings, methodologies and ideas and put them into practice. Compared to other methods, the way Human Insight works takes a more in-depth approach to strategy, systems theory and cultural independence.
Successful people
Starren continues, 'Human Insight can trace its origins back to London and is connected with the Netherlands via that route.' Yes, Starren believes that De Baak and Human Insight are very similar organizations in both background and history. 'We follow the same strategic lines, even in our mindset. Our vision is to change a winning team – because we want to help successful people become even more successful. We love sharing our knowledge and adding value through our contribution.'
Yeo nods and smiles. 'The economy in Shanghai has a much bigger education and training segment compared to the Netherlands. There are more than 6,000 companies involved in education and training, many of whom are independent entrepreneurs.'
Inspired, Starren notes that De Baak has the ambition to help the world. 'The world we live in is a "two-second economy". Where there was once a G20 versus one country, the United States, we now have a G2 world consisting of China and the United States.'
Eye-opener
Back to the managers and entrepreneurs. What has value for them? The first to speak says, 'The economic significance that Singapore has was a real eye-opener to me.' Another says, 'Your contacts, your valuable insights, add meaning to action for me. Those great opportunities in China are fantastic. Singapore may be seen as a springboard for starting a project and learning as we go along.'
Starren concurs. 'We don't have to corner the entire Asian market; there's enough for everyone here.'
Then they discuss the intense focus in both Singapore and China, which is so important to our own development. Starren says, 'It is striking, especially in this frame of reference: China is changing, becoming more international. Just like Europe.'
Global market
Yeo says, 'China offers infinite possibilities; you just have to know the way. And to really understand that way, to comprehend all the ins and outs, you have to be there. Consider the example of the elephants. Elephants move easily, so it's simple to change their direction in theory – but not by pushing them.'
Starren adds, 'Did you know that Singapore is the only country where all Fortune 500 companies have an office? In other words, if you want to meet Europe and the world, you go to Singapore. That's where the global market is, only there!' Smiling, he says jokingly, 'Although De Baak does have a management center and training institute in Antwerp these days.'